The world of international policy and development is awash in papers, briefings, and reports. We tend towards the "wonky." Transparency and Accountability Initiative (TAI) is no exception. In 2019, we published a total of 109 knowledge products.
However, in contrast to my past work in journalism and rural development, I find that communicating and disseminating knowledge products in the Transparency, Accountability and Participation (TAP) space can be a daunting task. Through my fellowship at TAI, I now realize that most TAP reports are not your average human-interest story, not filled with human-centred approaches. Most times, knowledge products are in-depth expository fact-based articles filled with abstract writings on policies and its impact on their subject. Sometimes they read like textbooks – valuable texts but informal in its approach. Also, many organizations are busy putting out the fires in their field and often operate as a silo rather than as a collaborative with their counterparts when it comes to communicating the reach and impact of the work they are doing on the field.
At TAI, we are testing some incremental changes to how we share knowledge. I will be sharing a few early insights here.
Be clear on what progress looks like
I've been rethinking what makes sense as Key Performance Indicators for our communications. What does that look like? Presently, we are tracking factors such as the balance between online and offline engagement; verbal and written feedback from audience on virility of TAI communications content and knowledge products; communicating with evidence-based messages and facts; as well as better alignment in the audience we are targeting and how to target them for increased participation and engagement.
Multidimensional approach
To try and avoid being lost in the shuffle, we took a polygonal approach. For instance, we began using time-warp to increase readership and deliverable of the weekly to subscriber's box. With this, we conquered the difference in each subscriber's time zone and enable them to read at peak hour. To address our members needs for an overview of what was happening across the collaborative, we began publishing the TAI Monthly, which drops every third week into our donor member's inbox. In addition, we sought to improve traffic and ubiquitous use of our website. Search Engine Optimization (SEO) is helping. The number of organic searches to the TAI website increased by 148% from 4,994 at the end of year 2018 to 12,407 at the close of year 2019, and our page view by 48.2% from the first half of the year. Ultimately, organic search became our number one source of web traffic – signalling 53% of what drives readers to the TAI website. This means we were able to influence more readers and stakeholders outside of our usual immediate reach/audience. We seek to align communications with the role that our donor members play. Perhaps no surprise that of all our knowledge products, the Smarter Grantmaking guide gained the most traction in 2019.
Using visuals is as important as the information itself
It's not rocket science. We know that visuals help attract and retain reader interest. Sometimes you just need a prod to follow good practice. We have seen this play out in TAI communications. A more deliberate efforts to integrate photos and giphy into the TAI Weekly newsletter and our social media outreach have paid off. Click rates and subscribers are up across a range of platforms.
To increase our library of digital content, we outsourced a design team to help design posters for our communication campaigns, including the seasonal internship, the TAI weekly newsletter, and the TAI Photo Grant. That grant was initiated precisely to increase the stock of photos for the field that convey transparency and accountability themes (no easy task!). We asked people to use their pictures to bring the subject to life. The competition ran until January 13, 2020, channelling 143 applicants.
Dissemination is a collaborative effort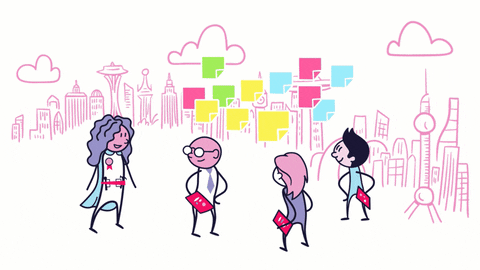 Improved active engagement and quick turnaround of feedback on social media improved followership and engagement with funders, philanthropic, and other organization outside the TAI network. On Twitter, we found strength in retweets, referral, and simultaneous engagement to conversations from grantee organizations supported by funder members and principals in the TAP field. Show some love and you will likely receive some love. In terms of visibility, it has helped to have others flag TAI knowledge – whether that is presenting at conferences, resharing content, or cross-posting blogs. Our intent is to have content surface outside our most established network. However, that can mean needing to think deliberately of what is relevant to other communities and who has the credibility to introduce messaging in those spaces. That also means closer attention to language. We are making a more deliberate effort to reduce our use of field-specific jargon to make our knowledge products appealing to the everyday reader who purposely seeks or stumbles upon our work.
In the future, we look forward to more integration and engagement with the communications team of member organizations to enrich the work we do and to avoid a situation where TAI is working in a silo.
In the spirit of making a New Year resolution, we look forward to establishing a new way of working collaboratively with the communications team of funder members and to adopt a project management approach that would improve workflow, measurement, and objective-setting and high-positive impact. We also look forward to seeing an increase in production and readership of our knowledge product, especially from non-western audiences. Personally, I will love to see more TAP stories or knowledge products delivered from a human-centric approach.
Nonetheless, we are intrigued to hear what you or others are doing to elevate dissemination of your work and how to raise the profile of all the inventive TAP related programming around the globe.