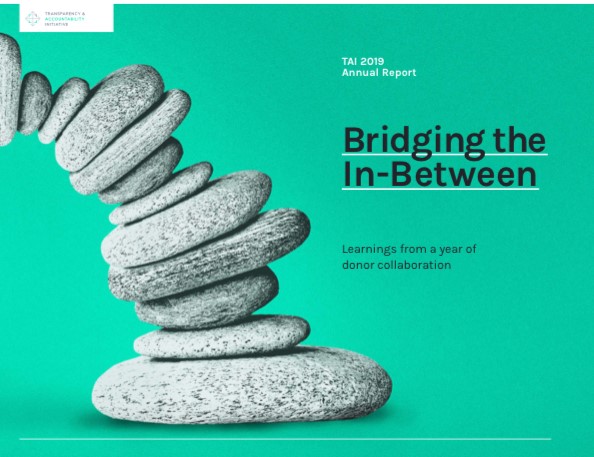 2020 seems determined to knock the world off its axis, but if you think back through the fog of all things virus-related, a lot happened in 2019, too. We just published our 2019 annual report. "So what?" you ask. Here are a few reasons why you might want to read it, plus a reminder of why we publish an annual report at all.
Why read the TAI report?
We learned a lot last year from TAI engagements. We believe those learnings may prove useful both for other funders and for transparency, participation and accountability practitioners. We have structured the report to make those learnings easily accessible. They fall in two categories – insights related to furthering accountable governance in the field and those related to fostering effective donor collaboration. Here are a few examples of each:
Illustrative field learning headlines:
Celebration of data disclosures at the global level can hide a lack of uptake at the local level, not least due to stakeholders calculating that no manner of data will necessarily enable them to unlock politically captured decision-making processes.
There is untapped potential for civil society engagement on revenue mobilization, but international funding is imbalanced, too often locking out non-state actors from meaningful support.
New research and evaluation findings testing the impacts of transparency require careful reading lest we read too much into programs built around limited interventions.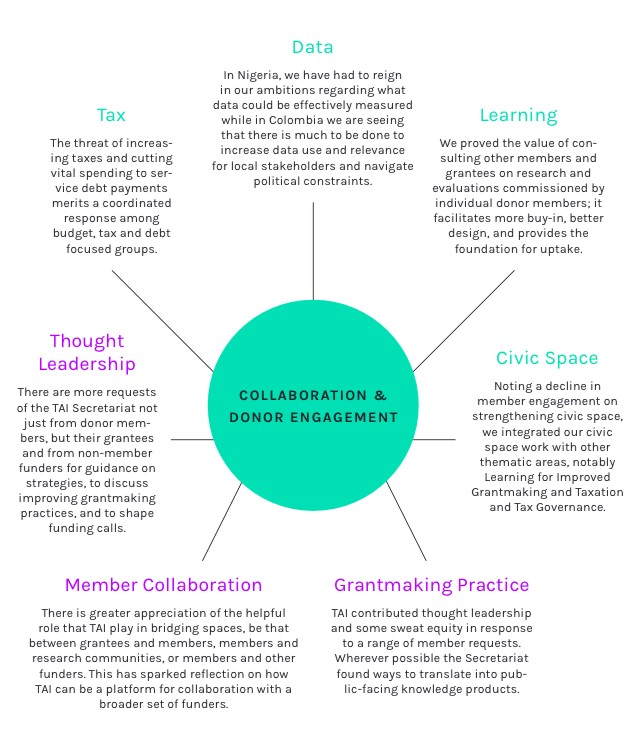 Illustrative collaboration learnings:
Donors find value in exchange with peers – especially those with a track record of funding more grassroots groups/individuals – and with grantees as they consider how to implement commitments to greater diversity, equity and inclusion in practice through their grantmaking.
There is value in funders consulting their peers on the design of their own research and evaluation commissions; it facilitates more buy-in, better design, and chances of uptake around findings.
An evaluation of any formal collaborative is invaluable in providing data to inform changes in collective strategy. It is worth the investment.
I hope you will dig into the report for more.
Why do we publish a report?
While we certainly agree with the questioning of whether an annual report is merited, we have a very practical reason as TAI for writing one. Our annual report also serves as our grant report to all our donor members. To be able to cover Secretariat costs, we are set up as a grantee. All our members have agreed to accept our annual reports in lieu of a dedicated grant report. That makes life easier on the Secretariat and reflects a commitment of TAI members to easing burdens on grantees.
If you want to learn more about the steps to set up such aligned reporting, see our collaboration case note on the topic. Would it serve your organization to have such a shared reporting protocol in place? Go ahead and ask your respective donor program officers. You may be surprised by how positively they respond. (For more inspiration see our "Conversations to have with funders" guidance).
We also publish an annual report as we want to model our commitment to transparency and accountability for how resources are used. You can read details of every output from the collaborative last year, how we performed against our targets, how we spent our funds.
Happy reading!
TAI_AnnualReport_2019_0325_Final (1)