Highlights
How's your data contract?

Freedom

Carbon governance
Is your land my land?
Stem the bleeding
Question master
TAI Spotlight: Riding the curve: Funder collaborative in a pandemic year
How's your data contract?
The "Data for Better Lives" World Development Report 2021 highlights the pressing need for all countries to establish a new social contract to guide the appropriate and effective use of data. We dug in to find 90 references to transparency, 82 to accountability, and lots of recommendations on data governance.
Learn how the 100 Questions Initiative is moving beyond solution-driven thinking and putting data-centered questions first, and discover what those seeking open science data can learn from the history of open government data. Stefaan Verhulst, Andrew Young, and Andrew Zahuranec examine the emerging third Wave of Open Data with an eye to making "scientific research data open to citizens and scientists alike."
In contrast, what can't data do? Mathematician Hannah Fry looks at the strength and limitations of data-driven analysis and concludes there is a gap between what we are able to measure and what we really care about. According to Hannah, we need to "reassess our relationship with predictions—to accept that there are inevitable limits on what numbers can offer, and to stop expecting mathematical models on their own to carry us through times of uncertainty."
Freedom
For the third time in six months, big tech CEOS – Facebook, Twitter, Google – were summoned by the U.S. congress over their platform's role in promoting extremism, mis/disinformation, and conspiracy theories. Here's what went down during the hearing as they defended their platforms' practices.
Last week, we told you about the worsening state of democratic governance globally. Well, essential freedoms aren't faring well either. Freedom House report on a 15-year consecutive decline in global freedom. How does it feel to have worked and lived through this experience? Don't miss this interview with Arch Puddington on his remarkable 50-year career as a freedom fighter. The new freedom report is dedicated to him.
Meanwhile, MySociety and the Westminster Foundation for Democracy (WFD) published a report on why donors should fund parliamentary digital transformation to achieve transparency, accountability, and a more inclusive and participative government.
Carbon governance
A new Net-Zero Company Benchmark will evaluate performance of the world's largest greenhouse gas emitters against the initiative's three high-level commitment goals: reducing greenhouse gas emissions, improving governance, and strengthening climate-related financial disclosures. As corporations take an interest in carbon removal, philanthropies must play a role in ensuring these commitments are not mere greenwashing.
Business Fights Poverty warns that as companies become involved in the fight against climate change, they must ensure people are at the center of climate action plans. Jessie Worker provides a guide to assessing the political economy of domestic climate change governance as many countries fail to implement policies to curb their climate impact.
TPA Full Disclosure: Cynthia Williams on pathways to exceptional report writing
As a freelancer and in-house editor with Dragonfly Editorial, Cynthia Williams has enjoyed working with many organizations in the transparency, accountability, and civic space arena. Recently, she worked on reports that assess open data initiatives in Afghanistan and Nigeria, examine environmental outcomes in marginalized U.S. communities, and call for government accountability in the creation of U.S. dietary guidelines. We spoke to Cynthia on the pathways to excellent report writing and the impact of storytelling in communicating philanthropy work.
Is your land my land?
The Food and Agriculture Organization of the U.N. (a TAI member grantee) states that improving forest tenure by indigenous and tribal peoples can reduce deforestation rates and loss of biodiversity. A new Columbia University report on land investments finds communities need more transparency around such investments and detail seven strategies to get it. Lux Research calls for transparency in Asia's food systems.
Looking more broadly, Kristen Cordell writes that China's development assistance strategy should be evaluated not only by Beijing's rhetorical commitments to sustainability and accountability but also by its potential to impact the implementation of large-scale projects overseas.
That should extend to extractives projects where warning signs abound. A new report by Policy Alert and PWYP UK shows millions of dollars paid by extractive companies in Nigeria have had insignificant impact on improving lives of local communities. Pair with BudgIT Nigeria's extractive reform strategy which details intervention strategies that can be adopted by the Nigerian government and policy actors to catalyze appropriate policy response in a post-COVID world.
Not good news for anti-corruption activists in the courts as a U.S. judge blocks U.S. Department of Justice attempts to seize $325m from an oil-exploration venture linked to the 1MDB financial scandal. This just a week after an Italian judge determined that ENI and Shell had no crime to answer for in the OPL 245 oil block case in Nigeria. Christophe Le Bec asks what happens next.
Stem the bleeding
Continuing from last week's introduction of the #BlackLivesShattered series, Léonce Ndikumana explains Africa's financial hemorrhage as the tax haven system accelerates the plunder of Africa's vast wealth of natural resources, in turn sustaining injustice and corruption throughout the global system. The ATAF Women in Tax Network was recently launched to help tackle issues around capital flight from Africa, with the opening event discussing critical issues such as Taxation and Gender Equality. They have a new information source to draw on as the African Tax Administration Forum launches a databank with 38+ different tax and economic indicators from 36 African countries spanning from 2010.
Want to know where money is going? The Corporate Tax Haven Index provides rankings to highlight the world's greatest enablers of global corporate tax abuse. Yet, the FACT Coalition is cheered by "explosive" momentum in the global push for corporate tax transparency.
Casey Michel and Alexander Cooley highlight how U.S. lawyers have become the professional enablers of transnational kleptocracy despite their profession's traditional role as the engineers of democracy. They advocate for basic due diligence obligations on lawyers. Read with this FAQ on how to crack down enables of white collar crimes – one of many resources released during last week's OECD Anti-Corruption and Integrity Forum.
Mathew Jenkins shares details of Transparency International's interactive SDG 16 data platform which provides easy access to an extensive repository on anti-corruption assessments across the world. As you explore the database, listen to a global, genre-bending playlist of inspiring songs to fight corruption from all 180 countries ranked in the Corruption Perception Index.
Question master
Lisa Pilar Cowan reflects on learnings from grantmaking in the coronavirus era, noting the need for funders to keep asking questions. "One of my central observations is that grant makers come up with answers more quickly and more often than they need to. The big question I tried to explore is, What is ours to take on, and what is not?"
Looking big picture, the Center for Effective Philanthropy shares findings around philanthropy's cautious realignment toward approaches with the greatest promise for delivering systemic equity and justice. Similarly, they discovered that foundation leaders who provide more multiyear general operating support made an intentional choice to do so based on their belief that it will build trust, strengthen relationships, and increase impact. In support of such moves, TSIC and 360Giving published a taxonomy to help funders monitor their grant programs and support groups experiencing structural inequity.
There are no more excuses for ignoring Southern voices and perspectives in funder or practitioner research, as the Southern Voice launches the COVID-19 Digital Knowledge Hub in the Global South – a collection of over 700 publications on the effects of the pandemic in various middle- and low-income countries.
Rohini Nilekani Philanthropies was rated in the top 1% of CEP's overall comparative Grantee Perception Report dataset for perceptions of trust last year. They share how they achieved this feat and how other funders can build grantee trust through feedback.
Finally, are you a US-based international development and humanitarian organization? Participate in the BRIDGE (Benchmarking Race, Inclusion, and Diversity in Global Engagement) survey. The first ever sector-wide diversity baseline survey, it will establish a DEI baseline.
Other stories:
Featured call: Help us advance the use of extractives data in Colombia!
Attention Colombia-based organizations working on accountability and/or participation in the mining sector! Please submit your ideas by tomorrow, March 31 to advance the use of extractives data on: mining royalties, gender inclusion, ethnic community participation, and/or the response and recovery to COVID-19.
Special Feature: TAI members win at Inaugural Catalyst 2030 Awards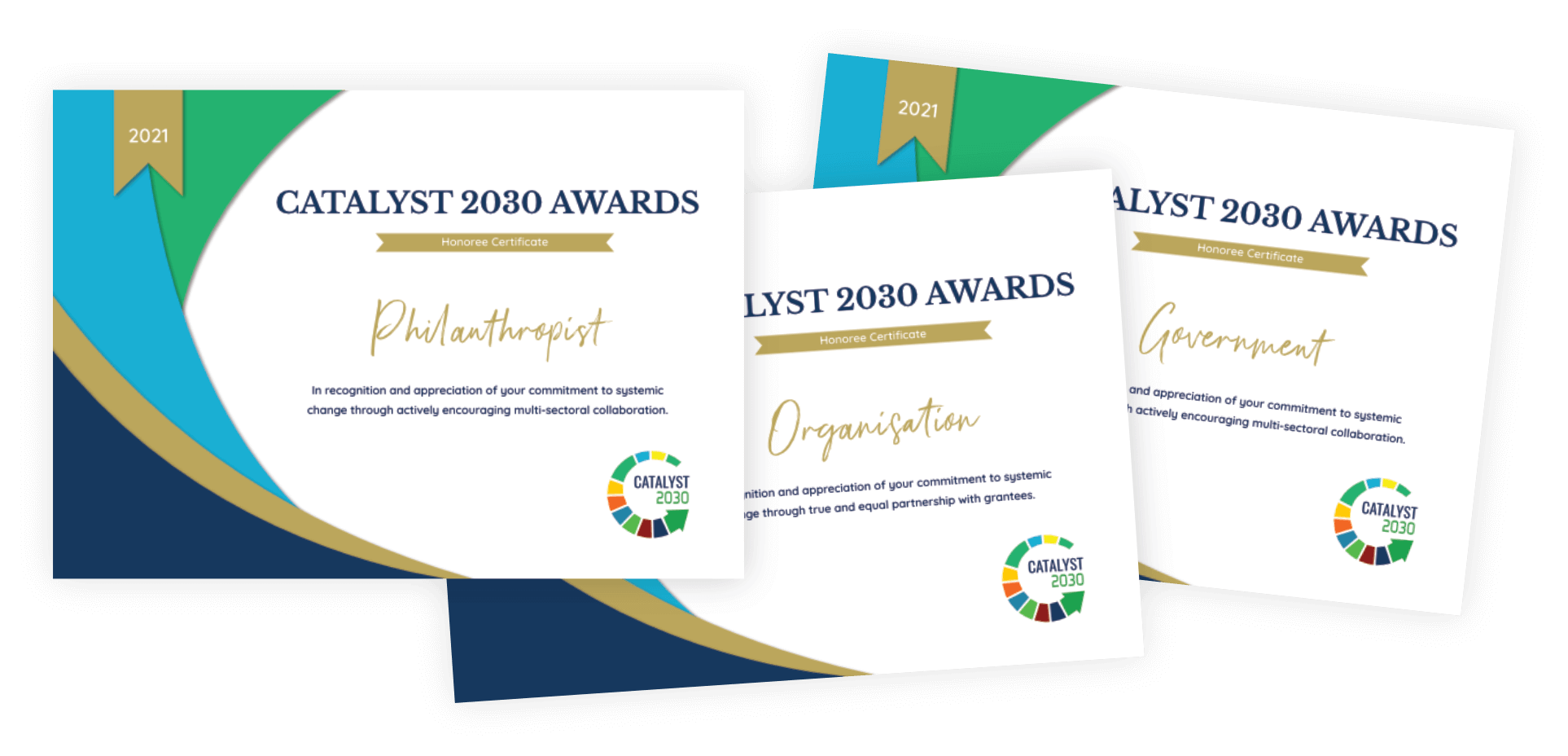 Congratulations to Ford Foundation for their win in the Catalyst 2030 Award (large donor organization category) for leading long overdue change across the philanthropy world by trusting social entrepreneurs more, particularly during the pandemic. Luminate was also nominated alongside Ford Foundation in this category. Chandler Foundation also received a special recognition as one of the early founder and supporters of Catalyst 2030. Kudos to all!
TAI Spotlight: Riding the curve: Funder collaborative in a pandemic year
Riding the curve: Funder collaborative in a pandemic year (Annual Report 2020) | Transparency and Accountability Initiative
2020 was a year for the history books, albeit one many of us would prefer to forget. Our new 5-year strategy was quickly stress-tested as the pandemic took hold globally. Thankfully, its flexibility and focus on function — not theme — meant it held up well. Here is a reflection on what we did, what we learned, where we saw progress in 2020, and our plans in 2021.
Promise of this moment | MacArthur Foundation
What lessons can we learn from this once-in-a-lifetime moment? Read MacArthur Foundation President John Palfrey's thoughtful letter on the state of the world and philanthropy and the opportunity before us now to reconstruct something better. He challenges the philanthropy sector to unshackle itself from "business as usual" and embrace "the promise of this moment".
Rebuilding our post-COVID world together | Ford Foundation
One year ago, the world changed. COVID-19 took the lives of millions and upended the hopes and dreams of untold millions more. Now that COVID has stripped away old expectations & assumptions, what actions can we take to advance progress around the world? Read Ford Foundation's president, Darren Walker's letter on how we can rebuild our post-COVID world together.
How to ensure a truly global recovery | Open Society Foundations
Nobel Memorial Prize in Economic Science recipient, Joseph Stiglitz weighs in on how to promote economic justice in post-pandemic economy. "Because the world won't recover fully until the disease is contained everywhere and economies around the world get back up to speed, it's in the best interest of advanced countries to see that this happens," says Stiglitz.
Helping people rise | Chandler Foundation
This decline of social mobility in the United States and elsewhere has corresponded with the troubling increase in inequality. Chandler Foundation CEO, Tim Hanstad says each of us has a role to play in addressing inequality and expanding economic opportunity. By helping governments become more effective and impactful, making markets more fair and vibrant, and working with businesses committed to purpose and principles above profits.
Job Listings
Calls/Opportunities
Calendar