Highlights
Opened up – right and wrong
A new short film explores implications of the "creeping data state" – a trend exacerbated during the pandemic. Perhaps regulators have been watching, given China warns leading app makers, such as TikTok, to rethink their data collection practices and U.S. Senators introduce new data privacy legislation. Google tries to get ahead of new laws by attempting to give users more power over their data.
Turning from data risk to local data opportunity, Simone Brody shares three proven approaches to assure city data portals empower residents. Development Gateway is customizing and scaling open contracting portals in Kenya, building on success in Makueni County. Crossing the continent, the Kaduna State government in Nigeria is using open government approaches to address the challenges posed by the COVID-19 pandemic.
Staying local, the Open Government Partnerships highlights progress among its cohort of 56 OGP Local actors. Mia Katan walks us through examples from communities in Georgia to Ghana while
Patrick Quirk and Eguiar Lizundia look ahead to the U.S. planned Democracy Summit and argue for the inclusion of local government, i.e., leaders of municipalities, cities, states, provinces, and regions. Perhaps that should extend to the newly elected Kerala State government in India, for whom Debashis Chatterjee offers a seven-step path to better governance.
For a flavor of local creativity, check out the new Open Justice and Innovation Lab created by Buenos Aires Council of Magistrates and the Civil Association for Equality and Justice – a space for co-creating solutions for the justice sector problems using classic open government tools: transparency and access to information, accountability and collaboration.
We wrap things up from the past Open Gov Week with a review of how OGP's Eastern Partnership members (Armenia, Georgia, Moldova, and Ukraine) have progressed in advancing open governance as the partnership steps into its second decade.
Check your receipt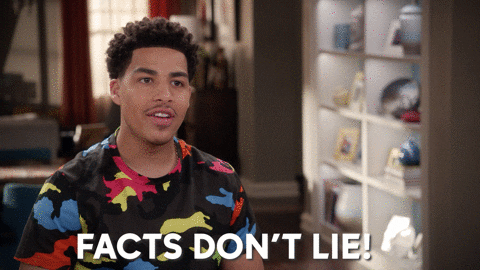 The pandemic led to unprecedented government spending and also unprecedented lending from the IMF and World Bank. To assure transparency and accountability of how funds were being used, the IMF negotiated governance safeguards. So, a year into the emergency, how are countries doing in living up to those safeguards? A new report lets you see the status of each country. Want the headlines only? Chady El Khoury, Jiro Honda, Johan Mathisen, and Etienne Yehoue walk you through the state of play.
Want to know why such transparency matters? A new Afrobarometer report reminds us why lack of information undermines people's trust in government and raises fears of corruption.
Those fears are often exacerbated when people sense that a cozy elite does get access to privileged information and deals (all too sadly born out during the pandemic). Business may be more trusted than government worldwide currently, but that doesn't mean people won't resent outsized corporate influence. With that in mind, TAI sat in on the launch of the OECD's new report on lobbying in the 21st century and was pleased to hear calls for more transparency, integrity, and access (and a welcome reminder that most businesses want a level playing field.)
One future field of lobbying may be around the extension of corporate disclosure requirements to cover health impacts. Kieron Boyle urges incorporating health impacts into investor environmental, social, and corporate governance decision-making. In a few years, might public companies reveal not just details of executive pay, or of climate risks, but impacts on consumer health, worker health, and community health?
TPA Full Disclosure: John Hawkins on using evidence to drive change in the infrastructure sector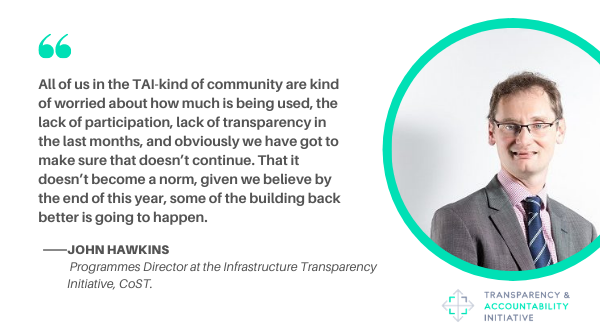 John Hawkins has been involved in the Construction Sector Transparency Initiative (CoST) since it was launched as a pilot in 2008 with eight participating countries. We sat with John to discuss CoST's approach in improving transparency, participation, and accountability in public infrastructure. This is all the more important given renewed attention to infrastructure investment to "build back better" from the pandemic.
Fox and henhouse – tax edition
Countries continue to refine their positions amid global tax negotiations. This past week the Biden administration lowered its proposal for a global minimum tax rate from 21 to 15% to get more countries on board. However, some continue to critique the whole process. Dereje Alemayehu argues that "trusting the OECD to set global rules on corporate tax when OECD member countries are responsible for over two-thirds of global corporate tax abuse is like trusting a pack of wolves to build a fence around your chicken coop." Chenai Mukumba and Rachel Etter-Phoya back his case.
Setting a more positive example, an experiment in Biscay, Spain, demonstrates just what can be done to align the tax system with the Sustainable Development Goals. For their part, Paolo de Renzio and Juan Pablo Guerrero the role of international principles and standards in delivering more open and accountable tax systems.
Of course, improving tax administration is important as well as reforming policy. Checkout our newly published policy brief and report with IDinsight, highlighting four distinct roles civil society can play in advancing equitable and effective tax administration. Pair with Accountability Research Center research on how supreme audit institutions and civil society can strengthen citizen participation in auditing in Latin America.
Taking knocks on all sides
Deborah Doane is excited about a new two-year process to reimagine the INGO sector and address recent challenges around power, diversity, resourcing, and more.
Meantime, there are no shortage of reminders of the very real risks that activists of all stripes face. Take Colombia, where Daniela Duran and Lorenzo Uribe offer a background to the upsurge in protest and repression.
At least the Colombian protests have received global coverage, but Michael Moran details how imperiled the global news media is — and the dangers to democracy along with it. While Lars Tallert tries to offer hope by laying out a path to a sustainable future for journalism, the litany of attacks on the media continues to depress.
Tim Cross reveals how Victor Orbán uses advertising, regulation, and buyouts to control Hungary's media. In Botswana, journalists recount the frightening state of government surveillance as Jonathan Rozen explains how Botswana police use U.S. and Israeli technology to identify press sources. In a similar move, Nigerians have been asked to submit their International Mobile Equipment Identity starting in July, just a few months after CitizensLab says the government acquired tools it can use to spy on calls and text messages by Nigerians.
Don't steal my story, too
Funders can now take an ethical storytelling pledge – many of the points within resonates with TAI's past research captured in the Story Behind the Story report on funder incubation and telling of stories.
Want to tap the hive mind for ways of facilitating networks and boosting collective action? Keep an eye on the Collective Mind's weekly advice column. Great stuff!
Last year, many funders pledged to support anti-racist practices in grantmaking and partnership. What can that look like? Jane Tanner, Kamna Muralidharan, and Kate Hitchcock reflect on key learnings from some uncomfortable conversations among European foundations, while Jessica Santos writes on dismantling white supremacy culture in grantmaking and Natalie Walrond offers nine "liberatory" strategies foundations can use to decolonize their board of directors.
Other stories
Remembering Rose Berg 💔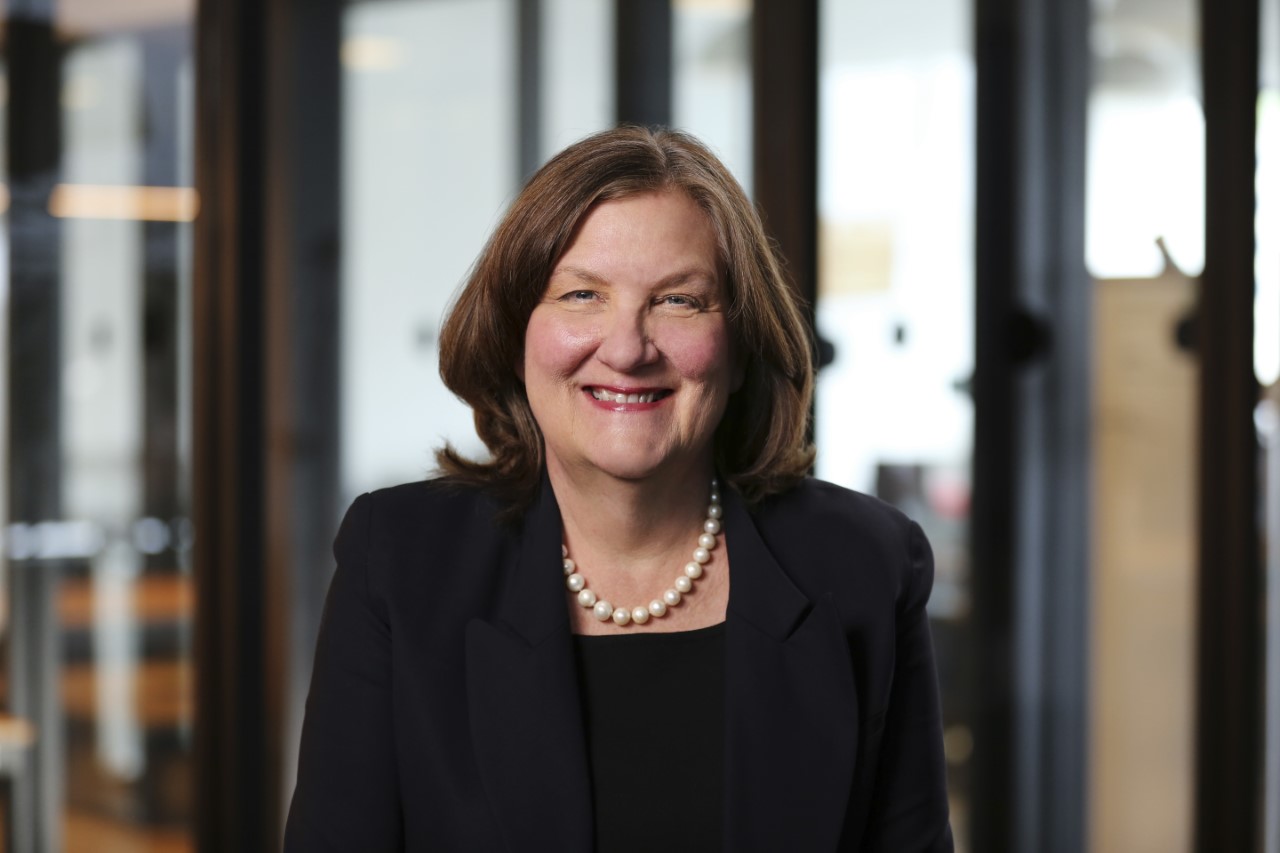 It is with heavy hearts that we note the sudden passing of Rose Berg, Chandler Foundation's Director of Advocacy and Communications. Rose was a wonderful colleague and an inspiring champion of the role of effective communications in service of international development. At TAI, we so valued her guidance. She is sorely missed. Our thoughts are with her family and friends and all of the Chandler team.
TAI Spotlight: Civil society's role in tax administration
Civil society's role in tax administration | Transparency and Accountability Initiative (TAI)
What are we learning about civil society engagement in tax administration? New evidence by IDInisight for TAI reveals four major roles for CSOs to achieve a more equitable and efficient tax administration ecosystem. Read the brief and full report for key findings and detailed analysis from that evidence and potential implications with a focus on funders.
Responding to crisis, investing in systems | MacArthur Foundation
MacArthur President John Palfrey and EdelGive Foundation Executive Chairperson Vidya Shah address how they are thinking about grantmaking in a pandemic and beyond. They discussed funding with an equity lens, the resilience of grassroots organizations, collaborating with other funders, and giving more, giving sooner, and giving better.
Why the world needs a people vaccine | Open Society Foundations
Vaccine inequality is prolonging the pandemic, leading to more deaths. Open Society explains the reason for the dire shortages that the world is currently facing, barriers to international cooperation to vaccinate the world, and what they are doing to improve vaccine access.
Reflecting on my first year as a grantmaker | Hewlett Foundation
Sarah Iqbal reflects lessons learnt as a Program Officer on the Hewlett Foundation's Women's Economic Empowerment Strategy
The Webby Awards | Ford Foundation
Exciting news! The #DisabilityDemandsJustice video series won a Webby in Public Service & Activism. Watch it here.
Job Listings
Calls/Opportunities
Calendar