Following an August break, TAI Weekly is back. We don't claim to flag everything of interest from the past month, but this bumper issue covers a lot of ground and you can be reassured that we will continue showing up in your inbox every Tuesday. Let's get to it…
Highlights:
In case you missed it…
Kleptocracy: the dark side of globalization
How does globalization enable kleptocracy to thrive? Weak democratic systems play a role, but Whitney Milam adds that a global network of financial secrecy is exploited by business and political elites to hide illicit wealth offshore. Case in point? New information has emerged on money laundered from Venezuela to the US through real estate properties in Florida. Milam's proposed solutions? Stronger transparency legislation, educating "gatekeeper" professionals on transnational corruption, and closing loopholes in the global financial system.
Talking of hiding wealth, we continue to digest the Tørsløv, Wier, and Zucman research flagged in our last issue – not just the headline 40% of multinational profits shifted to tax havens, but implications for economic indicators and estimates of corporate capital shares in particular.
Tax havens risk not only economic costs for non-haven countries but environmental ones, too. New research links the use of tax havens to fund illegal fishing and deforestation of the Amazon. Meanwhile, UK-based rightwing think tank Institute of Economic Affairs wants to protect the status of tax havens, citing their findings that tax havens are "not hotbeds of tax evasion" but instead, "boosted the wider economy". Better take the report with a grain of salt though- the study was funded by Jersey Finance, which represents banks, law firms, and accountants.
Offshore centers are not the only means to evade taxes – movie reliefs and philanthropic loopholes are exploited in the UK and US respectively. On a more positive note, Swiss Bank ZKB has agreed to pay US tax authorities $98.5 million for aiding their American clients. In Nigeria, $322 million looted by the late General Sani Abacha has been recovered, but which brings forth the issue of effective stolen asset recovery and distribution. Lessons perhaps for Pakistan, whose new Prime Minister promised to recover ill-gotten wealth overseas.
In Nigeria, do tax incentives attract investment or give away revenue? The Tax Justice Network is looking into the harmful effects of tax incentives, such as the global race to the bottom in corporate taxation. Pair it with OECD's principles to enhance transparency and governance of tax incentives.
Phony philanthropists?
TAI members – most of whom are private foundations – fund work on tax havens and tackling secrecy, but are we window dressing without wanting to change the underlying system? Anand Giridharadas would argue yes.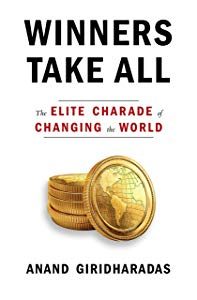 Our recommended Long Read digs into the world of elites who want to do good but profit from a system that is inherently inequitable. Read Joe Stiglitz's review or this interview with Anand himself. Rob Reich's forthcoming book will further up the ante – arguing philanthropy is failing democracy, too.
Perhaps private funders can take up the challenge by investing in the development of ideas. Alice Evans review of research in Latin America suggests that ideas matter in the fight against inequality. We can challenge the status quo when "marginalised people gain self-esteem; challenge hitherto unquestioned inequalities; and gain confidence in the possibility of social change."
Can funders boost their record in defending civic space?
Beyond inequality, can donors do more on another critical challenge of clampdowns on civil society? Yes, if they localize responses and solutions by empowering Southern-based CSOs to drive change say Ford Foundation's Nicolette Naylor and Rutendo Chandiwana. See their list of nine ways by which private philanthropy can "expand" civic space. This is just one resource of many pulled together in TAI's forthcoming compendium of funder/grantees responses.
The need is sadly all too apparent. In the last month, we've monitored crackdowns on journalists in Myanmar, US, Nepal, Slovakia, Mozambique, Hong Kong, and Venezuela. And it seems shrinking civic space has extended online too. A new paper looks at the emergence of state-sponsored trolling to attack dissent. The country with the most internet shutdowns? India tops the list (see infographic below). China's censorship and government surveillance have been hitting the headlines lately, but Yasheng Huang offers a different take – the country's use of big data and technology may actually "lead to stronger civil liberties".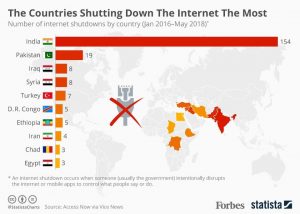 A time and place for openness and secrecy
Nepal has made a huge leap from centuries-old monarchy and from closed-door, exclusive decision-making to more open, transparent policies and practices. Will joining OGP be an answer to realizing open governance? Perhaps Nepal will find value and follow Nigeria's lead in extending openness to the subnational level. 7 of 36 Nigerian states have signed on to OGP. DFID urges Governors in the remaining 29 states to follow suit. But what if an open government is not always a good thing? You may have missed the New York Times columnist David Brooks arguing under what circumstances government secrecy is necessary.
Moving to a transparent digital age
Ian Sherr makes the case for why tech giants should publicly and openly explain what is and is not ok on their platforms. Perhaps, this ethics guidebook on technology and society will prove useful in the discussion? It includes ethical frameworks on data control, algorithmic biases, and surveillance. Meanwhile, in China, Google employees are demanding for more oversight over a mobile search engine project that agrees to the country's censorship demands. Elsewhere, a report by Omidyar Network, Bain & Company, and Google shows women comprise only 35% of mobile internet users in India, with a quarter of them using it only to access Facebook.
Talking of Facebook, how well do you know the uptake of social media platforms? Check out Visual Capitalist's latest social media universe to know who's using what where.
A new paper explores the economics of information, arguing that low-income communities don't have the practical information they need online. The authors highlight new strategies for better serving these communities, including bundling benefits information online, SMS-based journalism, a lot of engagement with the public and more funding of journalism, news and information.
Want to better understand the history of fake news and disinformation? International Center for Journalists offers a new guide with examples, exercises, and assignments. Staying on the fake news front, Mike Scutari takes a closer look at how the Google News Initiative (GNI) is shaping up. It's emerging role in short? Help news outlets optimize the YouTube platform and boost "news literacy" among consumers.
Video recording:
In a video interview, Blair Glencorse of Accountability Lab notes that accountability is about answerability. The people in power being accountable for the decisions and actions they take especially to the citizens and people who are most affected by these actions.
Digitizing oil, mining and gas industry work
Mobile apps and data analytics are transforming management systems into real-time tools for sharing best practices and ensuring compliance in the oil and gas industry.
Encouragingly, civic society is getting increasingly savvy with use of extractives data, too. Global Witness' new handbook offers a host of ways to use corporate revenue disclosures while a new rebel contraband dataset can be used to examine rebel group income from natural resources. Using customs agency data, academics and media in Chile are creating a storm about alleged under-pricing of lithium as explained by Alexandra Readhead. What does mining mean to Chile's economy overall? It would be good to see an equivalent set of infographics for those developed for mining's impact in Canada.
Grantees vs funders – who adapts to whom?
Alana Semuels' is provocative in suggesting non-profits should face a reality of needing to pitch and frame their work to resonate with new Silicon Valley money. I suspect TAI members would push back on that framing. There are efforts to adapt to grantee needs, Ford Foundation's BUILD program is one example of trying to strengthen non-profits in key fields who can dictate what's needed. Yet Vu Le argues that hopes of levelling the funding playing field for non-profits, especially smaller and marginalized community groups, will remain unmet.
Perhaps we can agree with Tiina Pasanen that we should all – funder and grantee alike – be accountable for learning and that means accepting the need for learning objectives and indicators. Need inspiration for what learning can be measurable? Dig into USAID's database of 160 collaborating, learning and adapting case studies.
Podcast of the week:
Nevis: how the world's most secretive offshore haven refuses to clean up: The Guardian's Audio Long Reads, Tax havens
TAI spotlight
Xavier de Souza Briggs, Ford Foundation's VP of Inclusive Economies talks about their strategy that involves elevating inequality to a top spot on philanthropy's list of priorities, pledging to confront the problem "in all its forms."
The Open Society Foundations has announced the appointment of Ayisha Osori as executive director of the Open Society Initiative for West Africa (OSIWA), effective September 4. She holds 18 years of experience on a wide range of issues, such as projects on good governance, gender equality, women's economic and political empowerment, and ending violence against women.
MacArthur has launched Jack Fuller Legacy Initiative, "which will support local journalism organizations that live the values Jack held dear: accuracy, justice, and inclusion," said MacArthur President Julia Stasch.
The International Development Secretary, Penny Mordaunt launched the programme which will transform Ethiopia's tax system, helping it to harness the potential of its booming economic growth and transitioning from aid.
Omidyar Network, in collaboration with venture development firm, Village Capital, has launched a Civic Tech India 2018 Accelerator program. The program will train and support an inclusive community of entrepreneurs, investors, and mentors to assist participating ventures to develop early-stage civic engagement initiatives to address civic issues.
Donor and CSO responses to shrinking civic space: TAI and Feedback Labs brainstorm
TAI's Program Officer, Lauren Keevill led a LabStorm session on "Tools to Open Up: A Compendium of Donor & CSO Strategies to Combat Shrinking Civic Space" to discuss how to make this compendium helpful and accessible to donor program officers and CSOs. Stay tuned for the public launch in October.
Calls: Proposals, papers, speakers and course invites
On the calendar