Highlights
Underneath the tree… (a beneficial ownership register)
Grandma got run over by a

reindeer

profiteer
All of us roasting on an open fire
I won't be home for Christmas (unless there is equitable vaccine roll out)
Jingle bells (the computer-generated remix)
I believe in

Father Christmas

evidence-based programming
Do you hear what I hear? (Sounds of foundation reform)
TAI Spotlight: The Future of Natural Resource Governance
With the holidays almost upon us, the TAI Weekly is taking a little pause for mulled wine and mince pies. You'll see us back on Tuesday, January 12th. In the meantime, we try for a festive theme this week…
Underneath the tree… (a beneficial ownership register)
In the week when we celebrated Anti-Corruption Day, it was fitting that a long-time goal was finally achieved in the United States with the passage of a bill to end anonymous shell companies. The result of smart and tireless advocacy to build an impressive coalition even extending to the Secretary of State for Delaware – the U.S. state notorious for its corporate secrecy. The same week also saw the launch of Open Ownership Principles designed to set the gold standard for effective beneficial ownership transparency (which the U.S. reform will not yet meet) and generate actionable and usable beneficial ownership data. Want more? Check out OpenOwnership's new podcast (check the essential listen section for the first episode).
Staying on the positive theme, Liz David-Barrett offers five reasons to be cheerful about anti-corruption this year, while Brian Levy finds that the World Bank's anti-corruption report on enhancing government effectiveness and transparency is a source of optimism by offering a practical entry point for change.
Sarah Lister and Anga Timilsina argue for a recommitment to collective action against corruption to ensure that anti-corruption is an integral part of all sustainable development efforts. The International Chamber of Commerce across Latin America also made a similar call to governments to adopt new mechanisms, particularly in the procurement and auditing spaces that serve goals of integrity, efficiency, and improved contracting conditions.
We wrap up the feel-good section with hearty congratulations to social worker Unathi Filita who was recognized as South Africa's top public servant and Integrity Icon of 2020 at Accountability Lab 's annual awards ceremony. Accountability Lab has also taken their decade-long Integrity Icon program down to the city level – this time around in Philadelphia, U.S. Go watch and vote for your favorite public servant.
Essential Listen: Where Power Lies: Remember the Panama Papers
Panama Papers Pulitzer prize winner Frederik Obermaier joins hosts Thom Townsend and Bridey Addison-Child to explore why journalists and the public need public beneficial ownership registers in all jurisdictions all around the world.
Grandma got run over by a reindeer profiteer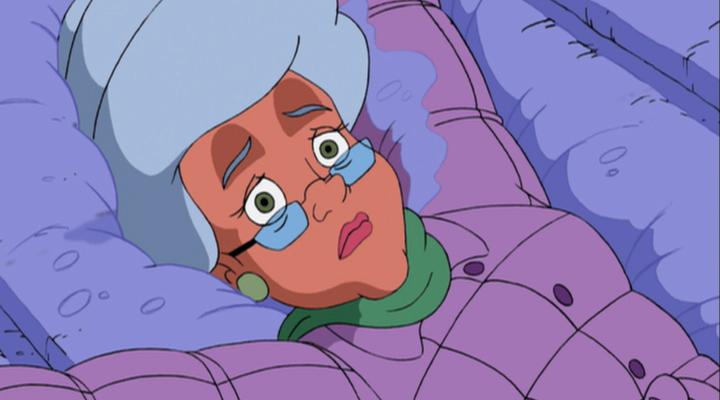 Of course, one need only open a newspaper (or scroll to your newsfeed) to be reminded of depressing realities. Hence, no shortage of stories this past week that highlight how corruption undermines the effort to address health crisis, rebuild economies, and human rights. Sticking with health concerns, learn about the documentary 'Collective,' which explores the impacts of corporate and government corruption on hospital conditions in Romania.
Meanwhile, Global Integrity's Anti-Corruption Evidence Research Program offers four practical approaches for tackling corruption. Don't miss the conversation from the authors and practitioners in the field on how these tools and methodologies can be applied by practitioners and academics alike. Matthew Stephenson also reviews the recent OSF-commissioned report on how global actors can better support anti-corruption reformers with recommendations and lessons from "window of opportunity" in Guatemala, Slovakia, and South Africa (subject of a recent donor discussion).
Damilola Banjo discusses the importance of Open Data in the fight against corruption, reflecting on the Frontiers in Using Open Data to Tackle Corruption panel and emphasizing that the direct causal impact of Open Data remains unclear. Perhaps Italian civil society organization onData can change that. They've launched AppaltiPOP, a publicly-accessible platform that tracks procurement red flags, makes public sector data more accessible, and increases transparency in Italy's challenging public procurement sector. Learn about how they did it.
C4ADS has created a free open data tool for sanctions transparency and research to keep track of all your favorite sanctions lists (over 80,000 unique entries!) while the E.U. has approved and is set to launch a new bloc-wide human rights sanctions regime that bears similarities to the Magnitsky Act and can be coordinated with U.S. sanctions.
All of us roasting on an open fire
Maurice Oniago writes that corruption is hindering global transition to renewable energy and names COVID-19 as an unexpected ally in the fight against climate change. Michael Nest, Saul Mullard, and Cecilie Wathne issue a warning to funders of climate change-mitigating interventions to adopt anti-corruption tools; otherwise, corruption risks within climate finance, energy, and low-carbon transport projects may derail their progress.
Interesting to see the U.K. commit to halt fossil fuel subsidies for projects abroad. Perhaps currying favor with the incoming U.S. President. Alex Daniels notes that leaders fighting climate change will now have a friend in the White House but urges foundations not to dial back their efforts on the issue. Perhaps even Beijing will be more constructive given their commitment to net zero by 2060. However, as Philippe Benoit and Alex Clark note, achieving that will be very difficult without fixing the governance of Chinese state owned enterprises. Reform of Chinese banks also offers an opportunity to clean up both governance and climate, but Global Witness worry it will be missed.
It will help to clean up two big climate contributors – the extractives and infrastructure sectors. To that end, Publish What You Pay launches a new global #DiscloseTheDeal campaign for contract transparency in the oil, gas, and mining industries. Their demand? Governments and companies must be open about the deals they are making over extractives – in line with EITI requirements in the coming year. Meanwhile, Global witness discusses the implications of a new fee on oil tankers in the Republic of Congo, which could allow a company linked to the presidential family to earn almost $7 million per year.
The Construction Sector Transparency Initiative (CoST) launched their Infrastructure Transparency Index to promote better infrastructure delivery and help users understand transparency, participation and accountability within the sector. We will watch with interest! Beyond the index, Joanne Coysh outlines the participatory process CoST went through to update its Theory of Change.
TPA Disclosure Series: Alfonsina Peñaloza on a feminist vision of TPA – "We need cross-movement building"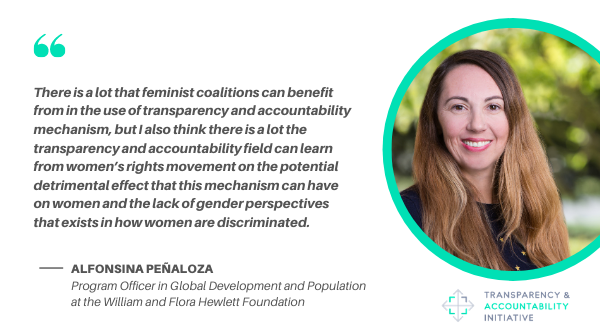 Hear from Program officer at Hewlett Foundation, Alfonsina Peñaloza, as she talks about the challenges of working as a woman in transparency, participation, and accountability space; changes in the transparency field; strengthening civic participation; and the need for building cross-cutting cross-movements across different subfields from taxation and extractive to service delivery monitoring.
I won't be home for Christmas (unless there is equitable vaccine roll out)
From one global crisis to another – Andrea Navarro, Julia Leite, and Simone Preissler Iglesias discuss transparency, coordination, distribution, and storage concerns regarding vaccine roll-out across Latin America. Top on the list of concerns for experts are corruption, poor health infrastructure, and lack of governance.
Dr. Hilda Bastion shares tips on how to interpret full results and weed out misleading claims ahead of the wave of new vaccine data to come: 1) Mind the sample/subsample size; 2) Be prepared for efficacy numbers to change; 3) Understand the classification of side effects.
Looking beyond vaccines, Julia Greenberg and Aggrey Aluso make the case that funding for global health is both "too much and not enough," reinforcing arrangements that favor private interests over public provision and lead to fragmented and non-transparent governance of health systems in low- and middle-income countries.
How to pay for vaccines and continued pandemic treatment? In the U.K., tax experts and economists outline the 'fairest, most efficient' way to offset the economic cost of Covid. First, is the recommendation from the Wealth Tax Commission's report which calls a progressive one-off post-covid tax which could raise £260 billion in the U.K. over five years. Louise Russell-Prywata also summarizes how beneficial ownership data can support effective taxation of wealth.
How far has the pandemic galvanized new form of civic activism? Carnegie Endowment has published new collection of twelve case studies from around the world to examine the shifts in global civil society brought upon by COVID-19. One positive response has been groups stepping up to monitor government responses – G-Watch among that cohort. They've created a database and released a report that examines Philippine COVID-19 loans and grants.
Good, too, to see more young people use their voice to push for a more transparent, fair, and equitable response and recovery from the COVID-19 pandemic – read five ideas raised by over 1000 young open government champions.
Jingle bells (the computer-generated remix)
Building on last week's discussion on A.I. governance, interesting to read Deborah Raji's piece on the widespread acceptance of A.I. "accuracy" in exchange for targeting and harming communities of color. According to Raji, "the fact is that A.I. doesn't work until it works for all of us. If we hope to ever address racial injustice, then we need to stop presenting our distorted data as 'ground truth.'"
If done right, Luciano Floridi agrees that ethical use of A.I. may be a force for good and could spur on a virtuous circle of more data, better science, and improved policies, thereby building resilience to overcome further global crises like pandemics, climate change, social injustice, and global poverty. Pair with this new documentary on the future of A.I which Cath Clarke describes as 'an eye-opening film if your anxiety levels are up to it.'
On a different note, Khamis Mutwafi shows us the potential of Google search data to give us insights into Tanzania's recent election amid shrinking democratic space.
I believe in Father Christmas evidence-based programming
Conor Seyle and Maureen Connolly share international lessons on forging resilient partnerships across sectors, emphasizing three principles – shared goals, open acknowledgment of differing incentives, and reducing hierarchy and centralized strategy. Pair with Jocelyn Wyatt, Tim Brown, and Shauna Carey's take on the future of design thinking for social change. As Dave Kim of Bill and Melinda Gates Foundation told the trio, "It is only when we apply a design lens—one that leaps across disciplines while remaining grounded in human insights—that we can tilt the change to a system that is a bit more just and joyful." What can that look like in practice? Isabelle Foster sees efforts to foster innovative and inclusive policy-making in Paraguay first hand.
Turning to evidence of programmatic effectiveness, Liz Brown shares insights from "Cost-ober," a series of virtual panels convened by the Center for Effective Global Action on the demand for high quality cost evidence among journal editors, donors, policymakers, and development engineers. Contributors identified an urgent need for "credible, consistent, and comparable evidence of program costs in global development," in light of "chronic inattention" to cost evidence and resulting unreliable impact analysis.
Data2X and the Center for Global Development have reviewed population monitoring and M&E tools to allow researchers and practitioners to determine the most helpful indicators as Program evaluation experts advocate for a harmonized 'basic set of metrics' to define women's economic empowerment that are usable across a range of contexts.
The Independent Evaluation Group mines additional data sources and introduces new ways of viewing the World Bank's outcomes and performance this year, and find results measurement systems bring rigor to performance assessment, but collect little evidence on higher-level development outcomes.
Last week, we told you about a recent Fail Fair TAI participated in. Read here how big tech have failed in aspects of the pandemic response, while CARE share their second annual report on Learning From Failure.
Do you hear what I hear? (Sounds of foundation reform)
Part of setting a, "proactive agenda for regulation that has long been missing within philanthropy", TAI members Ford Foundation and the Hewlett Foundation joined a coalition of high-powered funders to demand tax reform around donor-advised funds, and other charitable giving laws. Not that problems are limited to the U.S. – an OECD taxation and philanthropy study suggests all governments should provide less complex and more strategic tax incentives for philanthropy, while at the same time improving design to maximize effectiveness.
Samantha Musoke makes a case for harmonized financial reporting requirements for non-profits, not only for the sake of consistency, accuracy, and compliance but also so that grantors are held to a similarly rigorous reporting standard as grantees. An initative to watch in this space is INFR4NPOwhich has seed funding from Ford Foundation and Open Society Foundations and is working to "build trust and credibility in the sector by improving the quality and consistency of annual audited accounts around the world."
We long for the good old days of the mechanics of going to the office like Lisa Pilar Cowans of Robert Sterling Clark Foundation – taking the subway, drinking lots of mediocre office coffee at the office. She misses it all but wonders if upon return there will be a movement to rethink the trappings of foundations and changes that foster the collaborative partnerships we seek with grantees.
Essential Read: How to sustain accountability mechanisms
In late October 2020, Integrity Action launched an online brainstorm looking for ideas on how to sustain impact within social accountability. Derek Thorne shares initial analysis and results. Stay tuned for the full analysis – alongside other findings from their sustainability research project – in the new year.
TAI Spotlight: The Future of Natural Resource Governance
The future of natural resource governance | Transparency and Accountability Initiative
What does the natural resource field need to do newly, differently, more of, or better in the years and decades to come? We join colleagues from The Brookings Institution, Results for Development, and Natural Resource Governance Institute to discuss the future of natural resource governance amid so much uncertainty.
$50 million commitment to replace neoliberalism | Hewlett Foundation
The Foundation makes a five year $50 million commitment to the new Economy and Society Initiative, which will rethink how capitalism should be structured to meet society's biggest challenges. The transparency, participation, and accountability (TPA) team is inviting grantees to share their experience and perspectives on three questions on a digital board as part of their strategy evaluation.
What will save journalism? | Luminate
Money, organization – and legitimacy, says Managing Director at Luminate, Nishant Lalwani and Head of policy at BBC Media Action, James Deane. They call on international donors and policymakers to recognize the urgency of this challenge and mount a meaningful international response.
Grantee feedback improves our work | MacArthur Foundation
MacArthur President John Palfrey shares the Foundation's grantee perception survey results and some initial next steps based on the feedback.
Gender equality: Women, land, and data | Chandler Foundation
Foundation CEO Tim Hanstad writes about the importance of gender-disaggregated land data that is people-centered, actionable & accessible. He calls for more inclusive data to advance women's land rights in a recent World Bank blog post.
How the U.S. can mitigate the pandemic's global economic impact | Open Society Foundations
Co-director of the Open Society Economic Justice Program, Julie McCarthy, highlights three key areas where the Biden administration can curtail a raging pandemic and a sinking economy at home.
Job Listing
Call/ Opportunities
Calendar