Highlights
We're all in this together – pay up!
More whacks on the mole
Governance model – the post-COVID edition
Dirty but well protected
No, we aren't all affected equally
Covering a "datafied" pandemic
Community control
TAI Spotlight: Combating inequality
We're all in this together – pay up!
A real sign of the times that the IMF is proposing a "solidarity" tax on the wealthy and those who prospered through the pandemic to help fight inequity (even when not fiscally essential). Hopefully, such pronouncements will keep pressure on G20 financial leaders to promote more equitable tax systems. They discussed the idea of a global minimum corporate tax rate and reaffirmed their commitment to reach an international deal by mid-2021.
The biggest impetus is now coming from the U.S. with plans to make it tougher for corporations to shift tax. Check out this fascinating thread from U.S. Treasury Secretary Janet Yellen on avoiding race to bottom on taxes (very different in tone from past U.S. leadership tweets!) Adding ammunition for change, U.S. Senator Bernie Sanders reveals 55 U.S. corporate giants paid $0 in federal taxes in 2020 due to 'gaping' loopholes.
To better understand the cost-implications of profit-shifting, this analysis by ICTD shows that multinationals shifted $1 trillion offshore in 2016 – costing governments worldwide more than $200 billion in lost tax revenues in that year alone. For more detail, check out this database produced by researchers from the University of California, Berkeley, and the University of Copenhagen to see where corporations book their profits globally and how much each country loses in profit and tax revenue to tax havens each year.
Why care? Petr Janský argues the main issue with profit shifting is not that "multinational corporations are benefiting from this tax avoidance scheme but that somebody is being harmed."
More whacks on the mole
Bittersweet revelations as the U.S. signs a deferred prosecution agreement with Zurich's oldest private bank, Rahn+Bodmer. The Swiss bank admitted to helping American account holders evade U.S. tax obligations and the settlement reveals some of the tricks of the trade they deployed.
Perhaps a few more will be deterred from considering such schemes as the Biden Administration requests significant new funding for FinCEN, the U.S. Treasury's Financial Crimes Enforcement Network. There are already positive steps toward real estate transparency as buying property anonymously got a little bit harder in the U.S.
Will we see more funds flow to less politically pressured locales? The Washington Post worries that China is moving to close down economic transparency in Hong Kong, making it easier "to provide cover for China's elite who want to hide their illicit financial gains under layers of meaningless names and post office boxes."
Last week, we featured new guidance on developing whistleblower legislation. This week, Kristy Grant-Hart and Karin Henriksson anticipate an explosion of whistleblower requirements in organizations, responding to a massive change in regulation, as well as a shift in the perception of whistleblowers.
Visual of the week: The biggest corporate fines of the past 20 years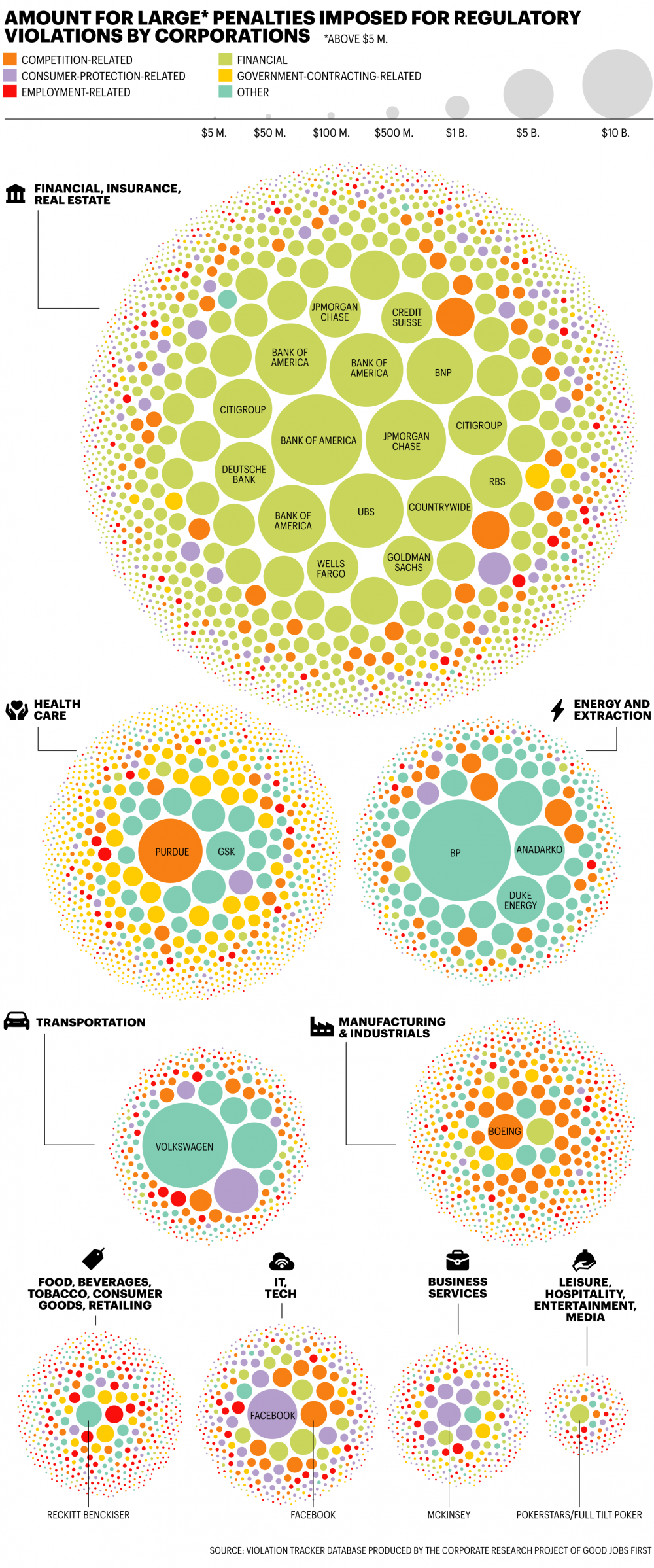 Fascinating visuals on the extent of corporate misconduct in the U.S. in the last 20 years! The "Violation Tracker" has a half million records documenting $667,000,000,000 in fines and penalties (and expanding) for which a U.K. version will be launched this year.
Governance model – the post-COVID edition
Amid the pandemic, the IMF included procurement and beneficial ownership transparency commitments in emergency lending. How effective were they in encouraging good governance and transparency? Hit and miss it seems.
Perhaps much more wholesale reform is needed. Dani Rodrik suggests that build back better suggests the need to rethink the role of government not just set new priorities. "New models of governance will be required to ensure public objectives are pursued with the full participation of those actors who have the knowledge and capacity to achieve them. The government will have to become a trusted partner, and it will have to trust other social actors in turn."
For their part, OGP co-Chairs issued a call-to-action for all OGP community to use their policy action plans to make ambitious commitments in addressing core challenges in civic space, anti-corruption, and digital governance in support of open renewal.
More inspiration as Open Contracting Partnership shares insight from applications received for their impact accelerator program, Lift. When viewed together, the 100+ applications from over 45 countries show a strong desire to drive an inclusive recovery through open contracting. Read alongside the inspiring projects of the 30 finalists of the World Justice Challenge 2021, selected from 114 countries. See how these reformers are protecting and advancing the rule of law in the face of the pandemic.
Dirty but well protected
In a Bloomberg four-part blog series on fossil fuel economies and the energy transition, David Fickling and Clara Ferreira Marque look at how oil exporters could cope in a post-oil world. Find out how Russia's political economy is working against a green energy transition and fostering adherence to dirty fuels amid a "competence resource curse, Nigeria's efforts to break the oil addiction and why there's room for renewable power, why Saudi can thrive in a post-oil world, and why Canada's ambitious pricing plan is a test of what can stick.
Katie Redford makes a case to fund movements that help keep fossil fuels in the ground, while Adam Ramsay also blames U.K.'s lack of democracy and equality for helping to drive the climate crisis.
No blog in the Bloomberg series on the U.S., but you can already see worries about the energy transition, not least on how to secure critical minerals supply chains. Meanwhile, Jessika E. Trancik makes a case for investment in technology research and development – especially in areas of solar energy, wind energy and lithium-ion batteries which can drive emissions down fast.
No, we aren't all affected equally
Early evidence on COVID-19 in a Center for Global Development report shows how the COVID-19 has disproportionately hurt women's economic standing and reproductive health, but also suggests ways to promote women's economic empowerment. Of course, women's rights can be a lightning rod in many contexts, and openDemocracy urge the European Union to take action against 'dark money' targeting women's rights.
A new policy brief written by Sohela Nazneen and Maria Fernanda Silva Olivares highlights how and what factors prove effective in strengthening women's voice in social accountability initiatives. Trócaire provides an overview of supporting citizen monitoring and advocacy to address sexual and gender-based violence in Uganda and Zimbabwe.
Brendan Halloran reflects on how accountability has evolved over the past several years as Tom Aston shares thoughts provoked by a recent study from Accountability Research Center on bottom up accountability in Uganda and flags some potential implications for donors and accountability practitioners.
Covering a "datafied" pandemic
Data is driving much COVID-19 coverage, but in the face of lots of mis/disinformation. Philip Di Salvo highlights some lessons from the work of Italian data reporters. Pair with this review of how the pandemic intensified data partnerships in Africa and beyond to see why data innovation could be the ultimate 'build back better' opportunity.
Poor data infrastructure and lack of capacity remain barriers to understanding outcomes for state and local programs. A new report by Markle Foundation and the Bill and Melinda Gates Foundation highlights strategies and regional data sharing agreements that can empower policymakers to better leverage data. Help with new tools and approaches to produce, manage, and use data, may also be coming from the World Bank's new Data Innovation Fund to mainstream new understandings into projects and support programs around the world (building on the Data for Better Lives findings).
Machine learning and data analytics have proven to be indispensable in combing through massive quantities of financial and non-financial data, including to identify potential patterns of corrupt conduct. Coalition for Integrity provided new guidance on using machine learning for anti-corruption risk and compliance.
Community control
How to boost community/grassroots groups agency over economic development? Check out this new report from Transform finance for examples of projects that explores redistributing power over investment processes and sharing governance to foster equitable outcomes. Also, see Global Investors for Sustainable Development (GISD) Alliance's Navigator to help you explore the existing initiatives for sustainable development investments.
The call for multiyear general operating support grants grow louder as Linda Thomas-Hemak writes on the importance of GOS grants in reaction to findings in recent research on the state of multiyear general operating support.
In case you missed it, Nadine Long shares the Kansas Health Foundation's experience and missteps with surveys and evaluations, and in the last of her series on philanthropy amid a year of pandemic, Lisa Pilar Cowan leaves us with inspiring words: "This is not the time to end our journey or to return to the old ways of doing things. Rather it is ours to realize that are just standing with our grantee partners at the very beginning of rebuilding, taking our first steps into the desert…[on] how to be more accountable to our grantees in word and deed." [Want an insight on funder collaboration in a pandemic year, see our annual report reflections].
Finally, we're looking forward to reading a new report from Rights CoLab on how to foster equitable relationships between civil society organizations in the North and South.
Other Stories
TPA Full Disclosure: Alison Miranda on what happens when learning leads to a surprising direction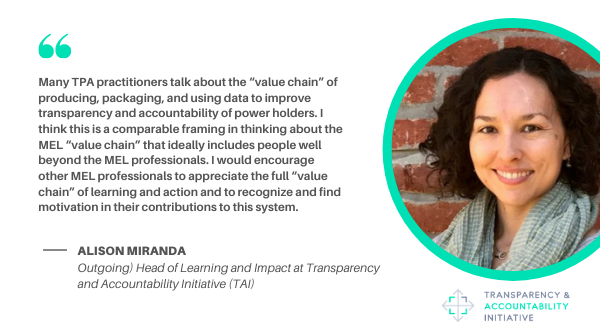 Ever wondered what it is like to work in a donor collaborative or to try and bridge the world between funders and grantees? Wonder no more! We sat with Alison Miranda, our (outgoing) Head of Learning and Impact. We spoke about her experience of leading learning strategy and monitoring, evaluation, and learning (MEL) practice at TAI, some of the unique elements of learning in a collaborative setting, and what happens when learning leads us in a surprising direction. We are sure that Alison will bring these insights to bear in her exciting new role at the Fund for Global Human Rights.
TAI Spotlight: Combating inequality
Combating inequality | Ford Foundation
In his 60 MINUTES interview with CBS, Ford Foundation President, Darren Walker, says philanthropies must attack inequality, and that generosity is no longer enough. "It is both arrogant and ignorant to believe that you can give money to an organization for your project, and not be concerned about the infrastructure that makes your project possible," he adds. To walk the talk, the foundation has expanded its ground breaking BUILD grants program to support hundreds of organizations with flexible funding, capacity-building support, and networks which is critical, especially in times of COVID and shrinking civic space.
Community Solutions awarded $100 million to end homelessness | MacArthur Foundation
Congratulations to Community Solutions, winner of the MacArthur 100&Change global competition! The organization has been awarded a $100 million grant to accelerate an end to homelessness in 75 U.S. communities in five years. Learn more about Community Solutions and watch the full presentation the award ceremony here.
$20 Million support for green infrastructure, inclusive economic opportunity, and democracy reforms | Open Society Foundations
Open Society Foundations pledges to invest $20 million to help advance reforms to strengthen the infrastructure, economy, and democracy of the United States as it recovers from the pandemic.
Building partnerships based on trust: Q&A with ARC and CEGSS | Hewlett Foundation
In the third part of the on-going blog series examining questions about power and offering ideas for more equitable partnerships in global development, Pat Scheid interviews Benilda Batzín (executive director, CEGSS), Naomi Hossain (research professor, ARC), and Walter Flores (formerly executive director of CEGSS and now an advisor to the organization) about how research partnerships can be more equitable and create lasting benefits.
Job Listings
Calls/Opportunities
Calendar