"White men from the global north dominate the TPA sector. One of the challenges is navigating that space as a woman and from the global south," says Alfonsina Peñaloza, program officer at Hewlett Foundation.
At the Foundation, Alfonsina manages two portfolios: (i) transparency, participation, and accountability, and (ii) the women and economic empowerment portfolios.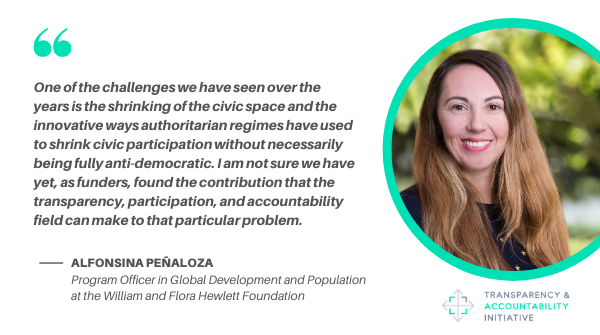 She concedes that there has been some progress in gender equality in the field. For example, traditional TPA organization like Extractive Industries Transparency Initiative (EITI) opening their standard to account for a more gender equality perspective. However, in general, "there are very few actors who speak about this or are interested in learning about it, and there are very few women in general still representing their perspectives in this space."
"There is a lot that a feminist coalition can benefit from in the use of transparency and accountability mechanism, but I also think there is also a lot the transparency and accountability field can learn from women's rights movement," she says.
Hear more from Alfonsina as she talks about the challenges of working as a woman in transparency, participation, and accountability space, changes in the transparency field, strengthening civic participation, and the need for building cross-cutting cross-movements across different subfields from taxation and extractive to service delivery monitoring.