"We need to concentrate more on policies and practices of institutions, including government institutions in terms of tax rules," says Open Society Foundations' program officer, Savior Mwambwa.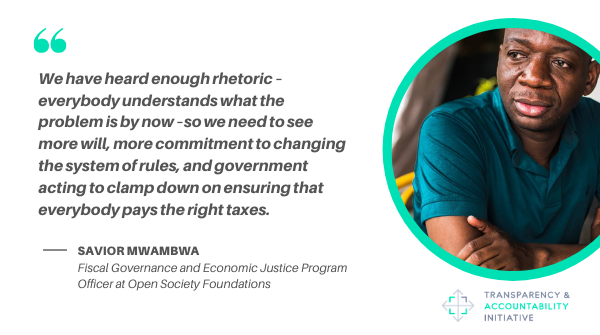 Savior, a 17 years veteran in the tax field, works with the Foundations' Economic Justice program, leading a portfolio on tax and inequality. This involves working with partners and civil society and non-civil society groups trying to influence country fiscal systems and international tax rules to ensure more equitable outcomes.
This means shifting power to those who represent those currently disadvantaged. According to Savior, "most of the agenda around transparency is currently driven by northern groups, NGOs, and funders. There is a disproportionate amount of voices in that realm (and) that informs the kind of agenda that's being set –which may be good, but is not reflective of the majority of the population that are marginalized or seeking the changes that we want."
In this interview, Savior reflects on his journey and motivation for working on tax and economic justice, the changes in tax justice programming over the years, challenges in achieving an equitable tax system, and nuggets for self-starters and pundits in tax programs.